We are so excited and proud to launch:
TruBody by TruSculpt®
An AMAZING combined technology to enhance our body sculpting portfolio and we CANNOT WAIT for you to try it!
.
The most comprehensive body and muscle sculpting treatments to remove fat and build muscle to create definition.
AVAILABLE NOW 
TruBody by TruSculpt forms as Thames Skin Clinic's body shaping portfolio.
It combines two powerful Cutera technologies of TruSculpt iD and TruSculpt Flex to create a complete body shaping solution that reduces fat and sculpts muscle.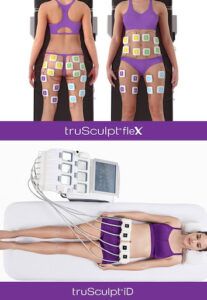 Reduce fat, rebuild muscle.
Clinically proven to:
Remove fat by up to 24%
Build muscle mass by up to 30%
Replicate up to 54,000 crunches
Help improve lower back pain.
Treatment completed in a fraction of the time other leading technologies require.
TruSculpt iD is a revolutionary non-surgical, body-sculpting treatment that allows you to personalise your ideal body in as little as one 15-minute treatment. It allows us to permanently eliminate fat cells in stubborn areas around your abdomen and flanks. A quick way to lose belly fat.
With truSculpt iD, you can get the body definition you want, even in areas that have been resistant to diet and exercise.
HOW IT WORKS?
• truSculpt iD uses innovative Monopolar RF technology to selectively target fat and therapeutically heat it – until fat cells are eliminated by passing through the body naturally.
• Average of 24% fat reduction is achieved in just one treatment.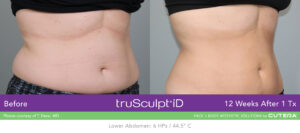 TruSculpt® flex, a personalized muscle sculpting treatment that adjusts to your fitness level, shape, and goals to strengthen, firm, and tone your muscles. Its comfortable, safe, and effective technology is clinically proven to increase an average of 30% muscle mass tailored to your individual needs.
HOW IT WORKS?
truSculpt flex uses a unique Multi-Directional Stimulation (MDS) technology to deliver three treatment options by replicating intensified crunch, squat and twisting actions.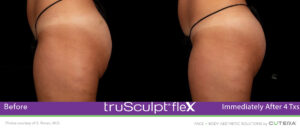 Contact us today to book your consultation